Learn More About
Spine Conditions
Each spinal disorder is unique, and every patient should be thoroughly evaluated using a physical examination, x-rays and imaging studies such as an MRI, a CT scan  or electromyography (EMG) as appropriate.  Understanding the nature of each patient's pain and symptoms is critical in order to make a sound medical opinion regarding an appropriate individualized treatment plan.  Conservative and non-conservative treatment of neck and back injuries have improved significantly over the past decade due to advancements in medications and minimally invasive surgical techniques and approaches.
Understanding your back pain is the first step in relieving it. Once an accurate diagnosis is reached, your physician can discuss with you the specifics of your condition and determine a treatment plan that will meet your individual needs. Learn more about the back pain and spine pain and conditions our physicians can help you address.
Compassion • Innovation • Excellence.
Meet Our Team
The Spine Institute of Louisiana physicians recognize that medicine is a service profession and as such believe that the health and healing of patients must come first.  We feel that each and every patient should be treated in a respectful and compassionate manner as we strive to seek solutions that will improve the quality of our patients' lives.  Our philosophy is to provide quality patient care using innovative and minimally invasive technologies in a manner that offers convenience, and a continuum of care that routinely sets the mark higher than the accepted standard of care for the area.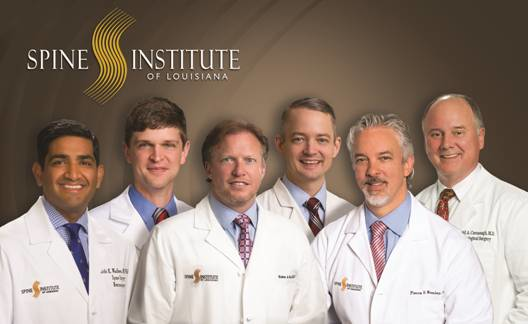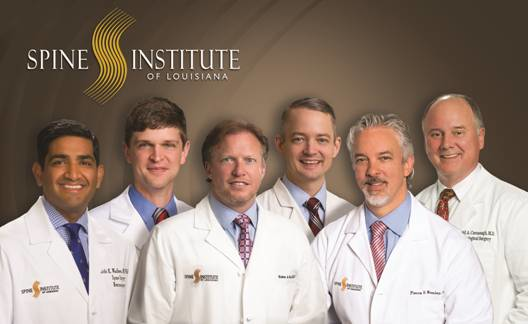 "I immediately knew it worked, because the pain, achiness and tingling was gone. I'm completely satisfied and just happy."
"There is no pain now. I haven't had any pain since the surgeries. And, I have not had any pain medication since 4-5 days after surgery."
"I can't say enough about Dr. Utter's bedside manner and how well he communicated with me and my family. He took as long as necessary to explain and answer all of our questions."
"I went from something messing up my way of life to pretty much bringing me back to 100-percent. Thanks to Dr. Nunley and his staff I'm pain free and racing."
Take The First Step
Request An Appointment!
Our friendly and knowledgeable staff are available to answer any questions.