Learn More About
Cervical Myelopathy
What is Cervical Myelopathy?
Within the cervical spine, there are 7 spinal vertebrae with nerves extending outward and each vertebrae is cushioned by spinal discs. Cervical myelopathy occurs when the spinal cord itself is compressed by a spinal disc or a bone spur in the spine.
In most instances, cervical myelopathy occurs due to degenerative changes to the spinal discs or joints within the spine including degenerative disc disease as well as arthritis within the spine. However, cervical myelopathy can also be caused by a sudden impact to the neck such as a car accident or injury.
Because cervical myelopathy affects the spinal cord and spinal nerves, the symptoms can be varied and complex. These symptoms may also appear slowly over time and become progressively more frequent.
If you have cervical myelopathy the symptoms can include:
Neck pain
Weakness in the arms, hands and fingers
Tingling in the arms, hands or fingers
Difficulty grasping objects
Loss of balance or motor skills
How is Cervical Myelopathy Treated at The Spine Institute of Louisiana?
To alleviate the symptoms of cervical myelopathy the key is to alleviate the pressure on the spinal cord and spinal nerves. In many cases this can be achieved using non-surgical treatments.
Non-surgical treatments may include:
A cervical brace
Physical therapy
Nonsteroidal anti-inflammatory drugs (NSAIDs)
Corticosteroids
Epidural steroid injections
If non-surgical treatments fail to alleviate symptoms, your Spine Institute of Louisiana Spine Specialist may recommend a surgical procedure to decompress the spinal cord and spinal nerves. These minimally invasive procedures can include a Cervical Spinal Fusion or a Laminectomy.
Make an Appointment with a Spine Institute of Louisiana Spine Specialist Today
If you have been experiencing the symptoms of cervical myelopathy, schedule an appointment with one of our Board Certified Spine Specialists.
We will evaluate your unique lifestyle and goals to determine which type of treatment is best for you.
Compassion • Innovation • Excellence.
Meet Our Team
The Spine Institute of Louisiana physicians recognize that medicine is a service profession and as such believe that the health and healing of patients must come first.  We feel that each and every patient should be treated in a respectful and compassionate manner as we strive to seek solutions that will improve the quality of our patients' lives.  Our philosophy is to provide quality patient care using innovative and minimally invasive technologies in a manner that offers convenience, and a continuum of care that routinely sets the mark higher than the accepted standard of care for the area.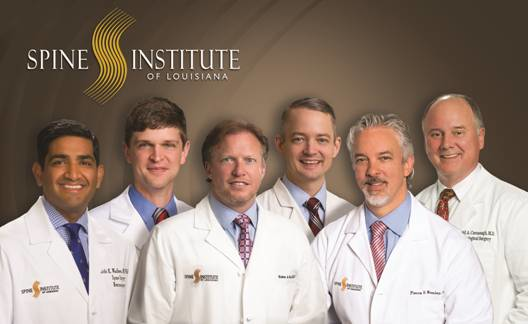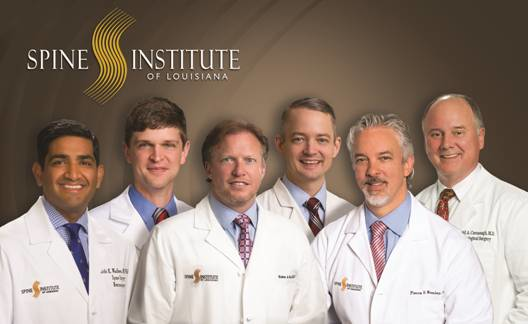 Take The First Step
Request An Appointment!
Our friendly and knowledgeable staff are available to answer any questions.