Learn More About
Pathological Spine Fracture
What is a Pathological Spine Fracture?
The spine consists of a column of twenty-six bones located between the base of the skull and the pelvis. The spine helps support and move the body as well as protect the spinal cord. Spine fractures can be caused by an accident or injury, such as a fall or direct blow onto the back, or as the result of a disease, most commonly osteoporosis or a tumor. 
If you have a spine fracture caused by a disease, which is called a Pathological Spine Fracture, the common symptoms can include:
Back pain 

Extremity pain

Numbness and/or weakness in the extremities
If you are experiencing symptoms of a Pathological Spine Fracture, it is best to make an appointment with one of the Board Certified Neurosurgeons at the Spine Institute of Louisiana as soon as possible. Delaying treatment may cause the fracture and its symptoms to become worse. At the Spine Institute of Louisiana, our Board Certified Neurosurgeons have helped thousands of patients with Pathological Spine Fractures live active and healthy lives using the latest non-surgical and surgical procedures.
How is a Pathological Spine Fracture Treated at the Spine Center of Louisiana? 
Depending on the classification of the fracture, nonsurgical treatment options may be used to reduce pain and other symptoms while the pathological spine fracture heals. These can include:
Rest

Bracing

Nonsteroidal anti-inflammatory and pain medications

Osteoporosis medications

Physical therapy

Radiation therapy (for a tumor)
In other cases, your Spine Institute of Louisiana specialist may recommend minimally invasive surgery to fix the fractured spine using a procedure known as kyphoplasty or vertebroplasty. These procedures use x-ray guidance, tiny surgical instruments, and bone cement to restore normal anatomy to the fractured vertebra. The Board Certified Neurosurgeons at the Spine Institute of Louisiana have performed thousands of Minimally Invasive Spine Surgeries and are experts in these procedures. 
Compassion • Innovation • Excellence.
Meet Our Team
The Spine Institute of Louisiana physicians recognize that medicine is a service profession and as such believe that the health and healing of patients must come first.  We feel that each and every patient should be treated in a respectful and compassionate manner as we strive to seek solutions that will improve the quality of our patients' lives.  Our philosophy is to provide quality patient care using innovative and minimally invasive technologies in a manner that offers convenience, and a continuum of care that routinely sets the mark higher than the accepted standard of care for the area.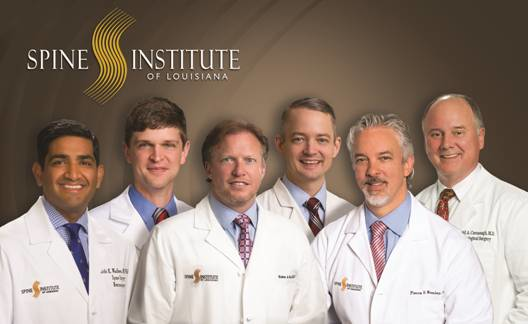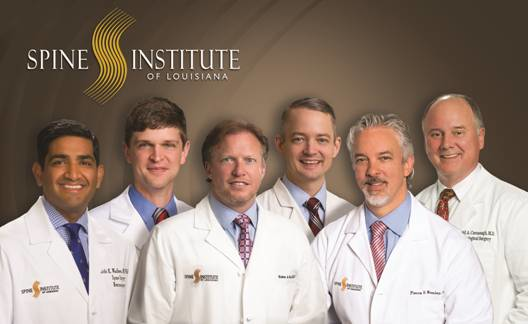 Take The First Step
Request An Appointment!
Our friendly and knowledgeable staff are available to answer any questions.