Learn More About
Ankylosing Spondylitis
What is Ankylosing Spondylitis?
Ankylosing Spondylitis is a specific form of arthritis that primarily affects the joints of the spine. As arthritis deteriorates the joints of the spine, your body will try to compensate for this by growing new bone. Over time, this new bone begins to fuse together and make the spine more stiff and rigid.
Ankylosing spondylitis tends to appear early in adulthood and affects men more often than women. Although there is no defined cause, some research has shown that genetic factors and gender do play a role.
If you have ankylosing spondylitis the symptoms can include:
Pain or stiffness in the lower back and hips
Pain that is worse in the morning
Pain that is intermittent but made worse with activity
How is Ankylosing Spondylitis Treated?
Although there is no cure for ankylosing spondylitis, there are treatments that can reduce the painful symptoms. At The Spine Institute of Louisiana, a non-surgical approach is most often used to treat the painful symptoms of ankylosing spondylitis.
These treatment options can include:
Nonsteroidal anti-inflammatory drugs (NSAIDs)
Physical therapy
Surgery is only discussed if there is severe damage to the joints of the spine which is causing the spine to become unstable. Your Spine Institute of Louisiana Spine Specialist will discuss with you the best treatment options based on your specific symptoms and lifestyle.
Make an Appointment with a Spine Institute of Louisiana Spine Specialist Today
If you have been experiencing symptoms of Ankylosing Spondylitis, schedule an appointment with one of our Board Certified Spine Surgeons.
We will evaluate your unique lifestyle and goals to determine which type of surgery is best for you.
Compassion • Innovation • Excellence.
Meet Our Team
The Spine Institute of Louisiana physicians recognize that medicine is a service profession and as such believe that the health and healing of patients must come first.  We feel that each and every patient should be treated in a respectful and compassionate manner as we strive to seek solutions that will improve the quality of our patients' lives.  Our philosophy is to provide quality patient care using innovative and minimally invasive technologies in a manner that offers convenience, and a continuum of care that routinely sets the mark higher than the accepted standard of care for the area.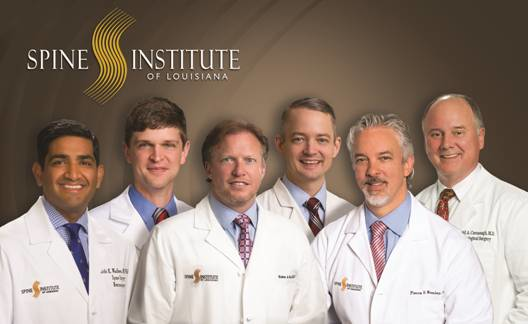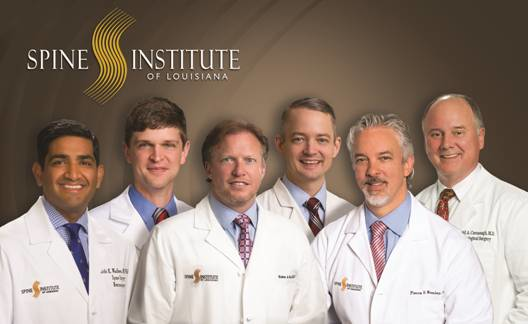 Take The First Step
Request An Appointment!
Our friendly and knowledgeable staff are available to answer any questions.