Learn More About
Sciatica
What is Sciatica?
Sciatica is one of the most commonly mentioned spinal conditions and describes the pain that originates in the lower back and radiates into the buttocks, the back of the legs and into the feet. The sciatic nerve is the longest continuous nerve in the body and begins in the lower back and extends into the legs. Sciatica is a term used to describe the pain but is not an actual diagnosis and is instead a symptom of an underlying condition that is causing pressure on the sciatic nerve.
These conditions can include:
Herniated, bulging or slipped spinal discs
Spinal Stenosis
Degenerative Disc Disease
Spinal bone spurs
Spinal arthritis
Spondylosis
Ankylosing Spondylitis
Facet Joint Disease
Spinal fractures
The Spine Team at The Spine Institute of Louisiana has helped thousands of patients with Sciatica return to an active and healthy lifestyle using a variety of treatment options.
How is Sciatica Treated at The Spine Institute of Louisiana?
At The Spine Institute of Louisiana, Sciatica is usually effectively treated using non-surgical treatment options. The Board Certified Spine Specialists at The Spine Institute of Louisiana create treatment plans based on your lifestyle and goals. These treatment plans may consist of any combination of the following non-surgical treatment options:
Nonsteroidal anti-inflammatory medications
Physical therapy
Corticosteroid injection
Surgery may be recommended if Sciatica does not respond to non-surgical treatment options. Two of the most common procedures used are a Minimally Invasive Microdiscectomy or a Minimally Invasive Spinal Fusion. The Board Certified Spine Surgeons at The Spine Institute of Louisiana are experts in a variety of Minimally Invasive Surgical procedures to treat Sciatica.
Make an Appointment with a Spine Institute of Louisiana Spine Specialist Today
If you have been experiencing symptoms of Sciatica, schedule an appointment with one of our Board Certified Spine Specialists.
We will evaluate your unique lifestyle and goals to determine which type of treatment is best for you.
Compassion • Innovation • Excellence.
Meet Our Team
The Spine Institute of Louisiana physicians recognize that medicine is a service profession and as such believe that the health and healing of patients must come first.  We feel that each and every patient should be treated in a respectful and compassionate manner as we strive to seek solutions that will improve the quality of our patients' lives.  Our philosophy is to provide quality patient care using innovative and minimally invasive technologies in a manner that offers convenience, and a continuum of care that routinely sets the mark higher than the accepted standard of care for the area.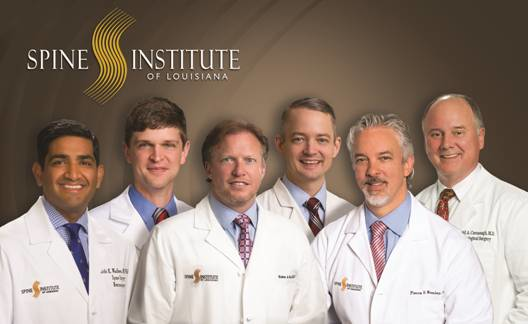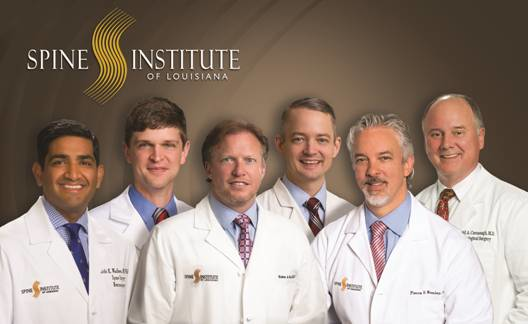 Take The First Step
Request An Appointment!
Our friendly and knowledgeable staff are available to answer any questions.