Learn More About
Scoliosis
What is Scoliosis?
Scoliosis is a spinal deformity that causes either an S-shaped or C-shaped curvature of the spine. The condition is commonly seen in adolescents but can also develop progressively as an adult. In some cases, Scoliosis causes no other symptoms other than those that can be seen as physical imbalances (curvature of the spine, misalignment of hips, misalignment of shoulders). However, in other cases, Scoliosis may cause pain and other issues such as the compression of internal organs.
There are different types of Scoliosis and the types vary according to the causes of Scoliosis. They are divided into 4 main groups:
Idiopathic Scoliosis. It is by far the most common type of scoliosis and it is also the only type that does not have a definite origin. It represents more than half the cases in the world.
Neuromuscular Scoliosis. It occurs due to neurological and muscular primary alterations such as "muscular dystrophy", myelomeningocele or Chiari malformation.
Congenital Scoliosis. It is caused by malformations in the bones of the spine (vertebrae) and hip from birth.
Traumatic Scoliosis. As the name suggests, it originates from a strong blow or accident to the spine.
What are the degrees of scoliosis?
There are 3 degrees of scoliosis. These degrees can change over time so it is important to be regularly examined based on your Spine Institute of Louisiana Spine Specialists recommendation.
The degrees of Scoliosis are:
Mild. All curves with a deviation of up to 20 degrees are called mild or slight scoliosis. It is the most common degree of scoliosis.
Moderate. All curves with deviation from 20 to 40 degrees.
Severe. Curves that have more than 40 degrees of deviation from the spine are considered severe scoliosis.
How is Scoliosis Treated at The Spine Institute of Louisiana?
Determining the treatment for Scoliosis typically depends on the severity of the Scoliosis and any physically limiting symptoms. Patients may be monitored over months or years to see if there are any changes in the curvature and if that change is causing other symptoms or limitations as well as the age of the patient.
At The Spine Institute of Louisiana, our Board Certified Spine Specialists offer a variety of treatment options based on your unique Scoliosis cause, curvature and progression.
Treatment options can include:
Physical Therapy
Bracing
Scoliosis Correction Surgery
Make an Appointment with a Spine Institute of Louisiana Spine Specialist Today
If you have been experiencing symptoms of Scoliosis, schedule an appointment with one of our Board Certified Spine Surgeons.
We will evaluate your unique lifestyle and goals to determine which type of surgery is best for you.
Compassion • Innovation • Excellence.
Meet Our Team
The Spine Institute of Louisiana physicians recognize that medicine is a service profession and as such believe that the health and healing of patients must come first.  We feel that each and every patient should be treated in a respectful and compassionate manner as we strive to seek solutions that will improve the quality of our patients' lives.  Our philosophy is to provide quality patient care using innovative and minimally invasive technologies in a manner that offers convenience, and a continuum of care that routinely sets the mark higher than the accepted standard of care for the area.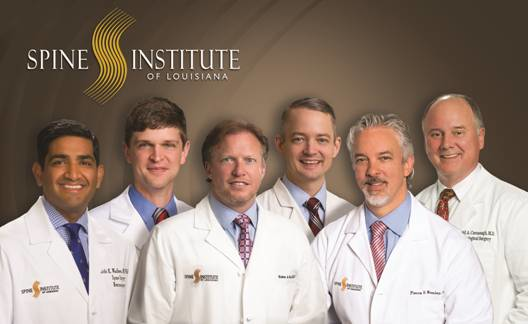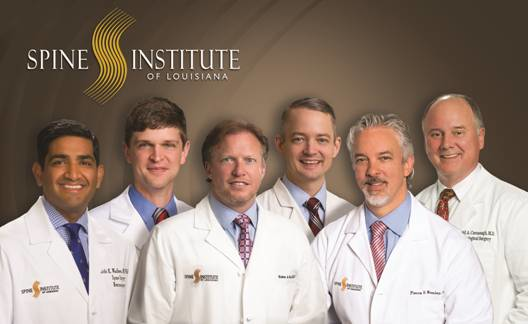 Take The First Step
Request An Appointment!
Our friendly and knowledgeable staff are available to answer any questions.