Learn More About
Spinal Compression Fracture
What is a Spinal Compression Fracture?
Spinal compression fractures are small fractures or cracks in the spinal vertebra. These fractures can be caused by an underlying condition that weakens the bones or can be caused by a high impact such as an accident or injury.
Osteoporosis is the most common cause of spinal compression fractures. This is because as osteoporosis progresses, it causes the vertebrae to weaken and decrease in size and height. If you have osteoporosis a spinal compression fracture may be caused by simple, everyday movements like walking, running, twisting or turning. Lifting, bending, and falling are also common movements that can cause fractures. Studies have shown that osteoporosis is more prevalent in women than men and therefore women experience fractures at a higher rate.
Spinal compression fractures typically only cause pain in the area of the fracture and are therefore diagnosed with X-ray or MRI.
How is a Spinal Compression Fracture Treated at The Spine Institute of Louisiana?
At The Spine Institute of Louisiana, a non-surgical is most often the first course of treatment unless other symptoms are present or the spine is unstable due to the fracture. The majority of spinal compression fractures will heal over the course of 4-6-weeks. Your Spine Institute of Louisiana Spine Specialist will instruct you as to activities or motions to avoid during this time. Over-the-counter and prescription medications are also used to reduce pain and inflammation during this time.
In some cases, spine compression fractures may require surgical intervention. The following procedures are commonly performed to treat spinal compression fractures:
Vertebroplasty. The fracture is stabilized with surgical-grade cement that is injected into the fracture
Kyphoplasty. The fracture is stabilized and vertebral height is restored when a tiny balloon is inserted into the fracture and inflated.
Both of these procedures are performed minimally invasively and on an outpatient basis so that you are able to return home the same day as your procedure.
Make an Appointment with a Spine Institute of Louisiana Spine Specialist Today
If you have been experiencing symptoms of a spinal compression fracture, schedule an appointment with one of our Board Certified Spine Surgeons.
We will evaluate your unique lifestyle and goals to determine which type of surgery is best for you.
Compassion • Innovation • Excellence.
Meet Our Team
The Spine Institute of Louisiana physicians recognize that medicine is a service profession and as such believe that the health and healing of patients must come first.  We feel that each and every patient should be treated in a respectful and compassionate manner as we strive to seek solutions that will improve the quality of our patients' lives.  Our philosophy is to provide quality patient care using innovative and minimally invasive technologies in a manner that offers convenience, and a continuum of care that routinely sets the mark higher than the accepted standard of care for the area.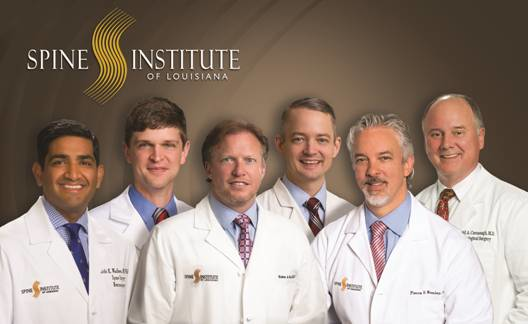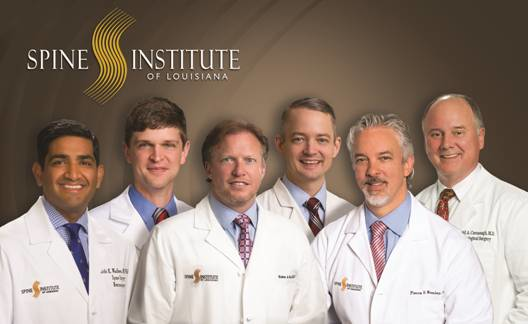 Take The First Step
Request An Appointment!
Our friendly and knowledgeable staff are available to answer any questions.