Learn More About
Revision Spine Surgery
What is Revision Spine Surgery?
Revision spine surgery is sometimes needed to correct issues that resulted from previous spine surgery.  Although uncommon, screws, plates or other implants used in a prior surgery can cause pain or other symptoms.  This is primarily due to either the spine not healing correctly after surgery or the implants themselves were not placed correctly.
In other instances, the implants used in a previous surgery cause what is known as Adjacent Level Segment Disease, which causes the discs or vertebrae above or below the original surgical area to become weakened.  These vertebrae or discs need to be treated surgically to relieve pain and other symptoms.
At the Spine Institute of Louisiana, our Board Certified Spine Surgeons use the latest advancements in surgical techniques and technology to minimize the need for revision spine surgery.  Our Spine Surgeons have been trusted by countless patients to correct complications that arose from previous spine surgeries at other medical practices and hospitals.
How is Revision Spine Surgery Performed at the Spine Institute of Louisiana?
How revision spine surgery is performed is based on what is causing pain and other symptoms.  If the implants from previous surgery are pressing on a spinal nerve, these implants may be removed, repositioned or reimplanted to alleviate the pressure on the spinal nerve.
If the disc or vertebrae above or below the original surgical area is affected, a spinal fusion may be extended to also stabilize those vertebrae or discs.
Your Spine Institute of Louisiana spine surgeon will thoroughly evaluate your previous surgery to develop a surgical plan that is unique to your condition.
Compassion • Innovation • Excellence.
Meet Our Team
The Spine Institute of Louisiana physicians recognize that medicine is a service profession and as such believe that the health and healing of patients must come first.  We feel that each and every patient should be treated in a respectful and compassionate manner as we strive to seek solutions that will improve the quality of our patients' lives.  Our philosophy is to provide quality patient care using innovative and minimally invasive technologies in a manner that offers convenience, and a continuum of care that routinely sets the mark higher than the accepted standard of care for the area.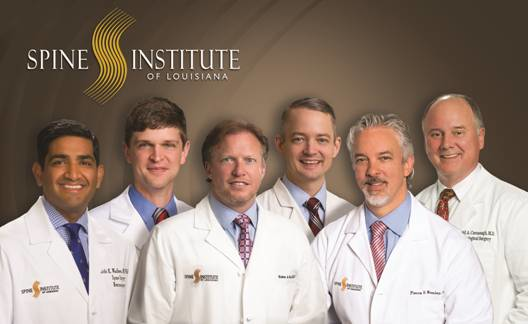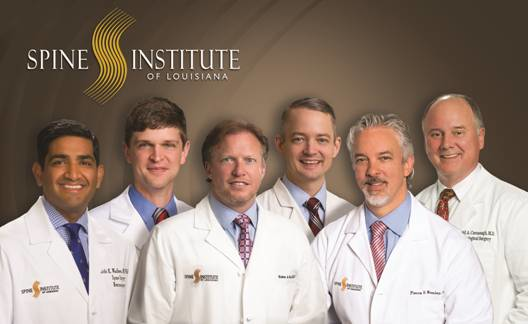 Take The First Step
Request An Appointment!
Our friendly and knowledgeable staff are available to answer any questions.