Spine Specialist | Director
Pierce Nunley, MD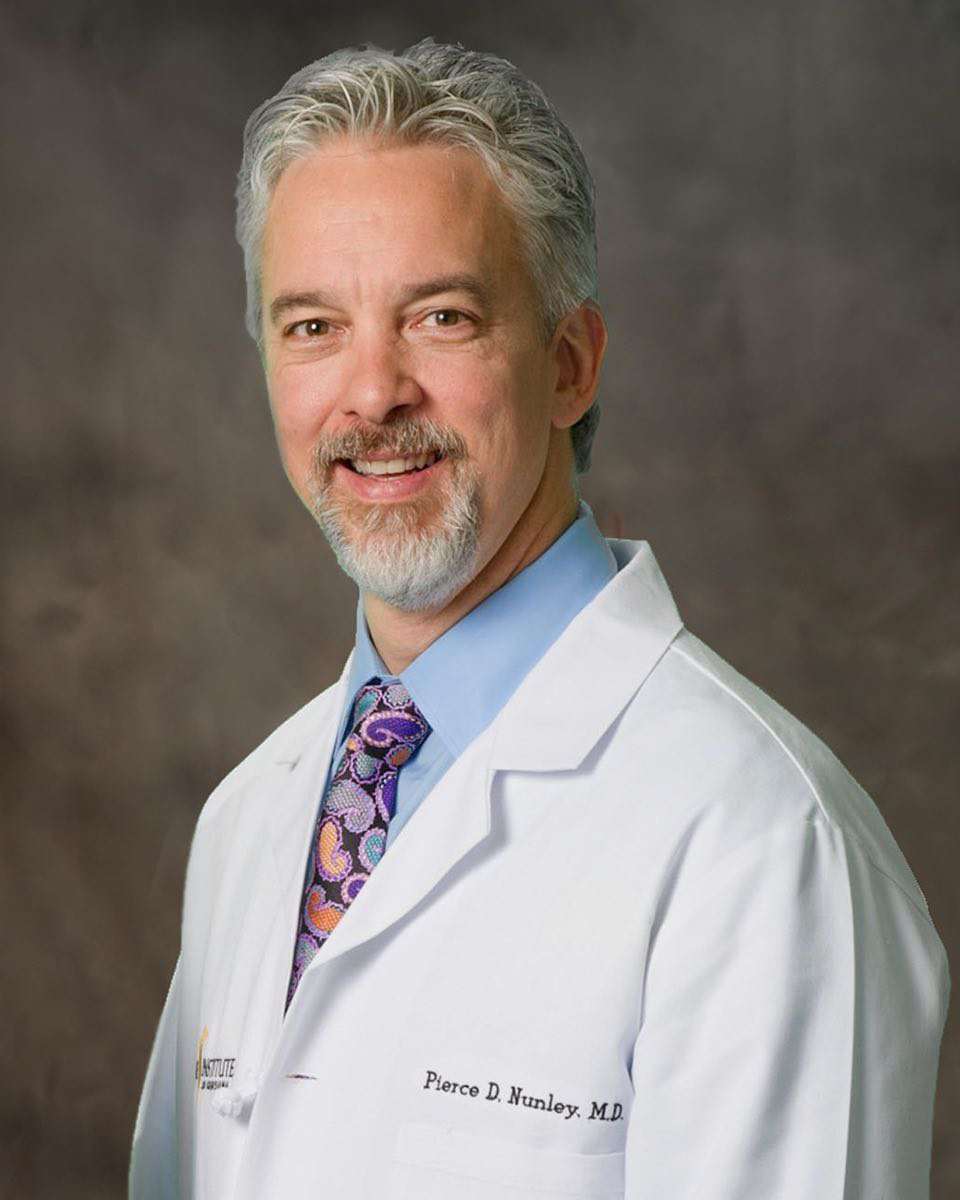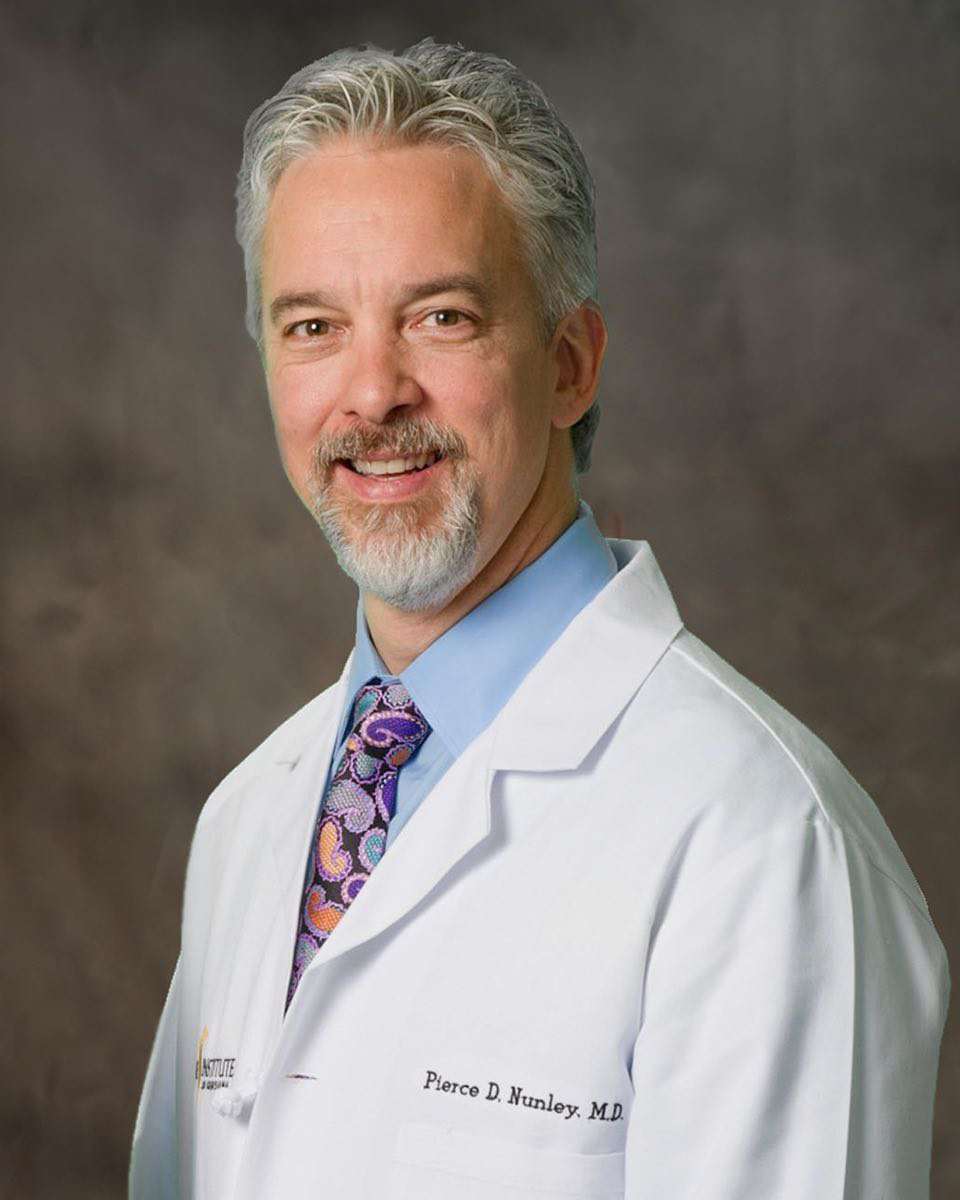 Spine Specialist | Director
Pierce Nunley, MD
About Dr. Nunley
Pierce Nunley, M.D., brings international experience to his position as the director of the Spine Institute. He received his M.D. from the University of Kansas Medical College and did his internship and residency at LSU Health Sciences Center, where he has served as a clinical instructor since 1999 and as an Assistant Professor in the Department of Orthopedic Surgery since 2006.
He completed a spine fellowship at the University of Basel in Switzerland in 1996 and at the Dallas Spine Group in 1997. Nunley also received specialized training at the Mississippi Sports Medicine Center in Jackson. Dr. Nunley is board certified by both the American Board of Orthopaedic Surgeons and by the American Board of Spine Surgery.
Dr. Nunley is a fellow of the American Academy of Orthopaedic Surgeons, serves on the research fund management committee of the North American Spine Society, is a board member of the American College of Spine Surgery and has membership in the Southern Orthopaedic Association and Louisiana State Medical Society. He serves on the board of the Spine Institute of Louisiana Foundation and Syndicom Inc. The company's flagship product is SpineConnect, a leading collaborative innovation network for spine surgeons to collaborate on difficult and unusual cases.
He is published in numerous journals and books and has presented papers in Canada, Mexico and Italy, as well as all over the United States.
Dr. Nunley enjoys Internet and medical systems design and digital photography. He performs and composes music for voice, guitar, violin and piano. Other hobbies include tennis, golf, bicycling, diving and skiing. He is married to Dr. Amie Jew Nunley and has one daughter Jasmine Virginia.
Specialties
Complex Spine Surgery
Cervical, Thoracic, Lumbar Spine Surgery
Minimally Invasive Spine Surgery
Motion Sparing Spine Surgery
Reconstructive Spine Surgery
Artificial Disc Replacement
Education
University of Kansas – BA Human Biology (1986)
University of Kansas Medical College – Doctor of Medicine (1991)
LSU Health Sciences Center – Orthopaedic Surgery Internship & Residency (1992-1996)
University of Basel, Switzerland – Spine Fellowship (1996)
University of Texas SW, Dallas Spine Group – Spine Fellowship (1997)
Affiliations
North American Spine Society
Cervical Spine Research Society, Fellow
Scoliosis Research Society, Fellow
Alfred R. Shands, Jr. Circle Recognition Society
Society for Minimally Invasive Spine Surgery, Fellow
Society of Lateral Access Surgery, Founding Member
American Academy of Orthopedic Surgeons, Fellow
American College of Spine Surgery, Fellow
International College of Surgeons, Fellow
International Society for the Advancement of Spine Surgery, Fellow
AO (Arbeitsgemeinschaft für Osteosynthesefragen) International
Louisiana Orthopaedic Association
Louisiana State Medical Society
Shreveport Medical Society
"As soon as I woke up from surgery, I had no pain; none in my neck and none in my arm.  Six months after surgery I began playing tennis and golf again."
"I went from something messing up my way of life to pretty much bringing me back to 100-percent. Thanks to Dr. Nunley and his staff I'm pain free and racing."
Take The First Step
Request An Appointment!
Our friendly and knowledgeable staff are available to answer any questions.