Learn More About
Microdiscectomy
Minimally Invasive Discectomy
Learn More About
Microdiscectomy
Minimally Invasive
Discectomy
What is Minimally Invasive Discectomy (Microdiscectomy)?
A Minimally Invasive Discectomy (Microdiscectomy) is a surgical procedure that uses a very small incision (usually less than one inch), a microscope and small surgical tools to remove portions of the intervertebral disc(s) that are compressing the spinal nerves in the lower back.
A Microdiscectomy is most often used to treat the symptoms of a herniated disc that do not respond to nonsurgical treatment options. A microdiscectomy is especially effective in treating sciatica—a burning pain that runs from the hip to the back of the thigh and legs and sciatica relief usually occurs very quickly after surgery
At The Spine Institute of Louisiana, our Board Certified Spine Surgeons are experts in Microdiscectomy surgery and have helped thousands of patients return to an active and healthy lifestyle after this procedure.
How Microdiscectomy Surgery is Performed
At The Spine Institute of Louisiana, a Microdiscectomy is usually performed as an outpatient procedure so that you can return home the same day as your procedure.
Steps used to perform the procedure include:
Incision. A small one-inch incision is made along the lower back.
Exposure. Muscles are gently retracted so the compressed nerve can be viewed.
Discectomy. Tiny instruments and microscopic guidance are used to remove pieces of the disc and arthritic bone.
Closure. Stitches and adhesive strips close the incision.
Using our advanced minimally invasive techniques, there is very little surgical trauma and you are able to recover and return to normal activities shortly after surgery.
Make an Appointment with a Spine Institute of Louisiana Spine Specialist Today
If you have been considering spine surgery, or you are experiencing the symptoms of a herniated disc and sciatica, schedule an appointment with one of our Board Certified Spine Surgeons.
We will evaluate your unique lifestyle and goals to determine which type of surgery is best for you.
Compassion • Innovation • Excellence.
Meet Our Team
The Spine Institute of Louisiana physicians recognize that medicine is a service profession and as such believe that the health and healing of patients must come first.  We feel that each and every patient should be treated in a respectful and compassionate manner as we strive to seek solutions that will improve the quality of our patients' lives.  Our philosophy is to provide quality patient care using innovative and minimally invasive technologies in a manner that offers convenience, and a continuum of care that routinely sets the mark higher than the accepted standard of care for the area.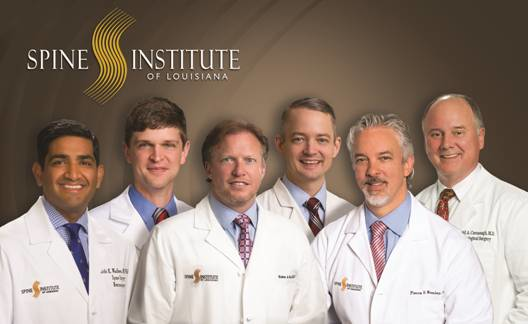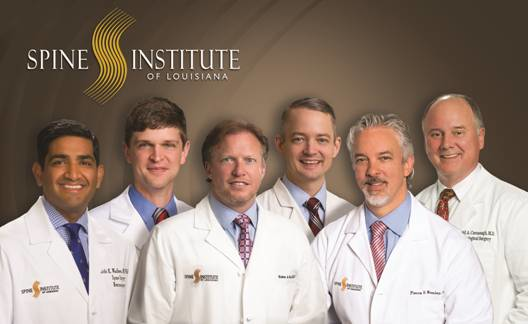 Take The First Step
Request An Appointment!
Our friendly and knowledgeable staff are available to answer any questions.