Learn More About
Cervical Artificial
Disc Replacement
Learn More About
Cervical Artificial
Disc Replacement
What is a Cervical Artificial Disc Replacement?
A Cervical Artificial Disc Replacement (ADR) is an innovative procedure used to treat damaged discs in the cervical spine that are causing neck pain as well as pain and numbness in the extremities. Similar to a hip or knee replacement procedure, the goal of a Cervical ADR is to use an implant that mimics the function of a healthy spinal disc and also allows for a range of motion in the neck. Unlike a traditional spinal fusion, no plates or screws are attached to the spine and thus the motion of the cervical spine is preserved.
Cervical ADR may be recommended when more conservative treatment options have failed to provide relief for conditions such as a herniated disc and cervical radiculopathy. At The Spine Institute of Louisiana, our Board Certified Spine Surgeons are experts in Cervical ADR surgery and have helped thousands of patients return to an active and healthy lifestyle after this procedure.
The doctors at the Spine Institute of Louisiana helped pioneer this technology by performing these surgeries and participating in research with the FDA before it was available to all physicians and patients. Our specialists continue to participate in FDA clinical studies to bring cutting-edge technology to their patients before it is available to the general public.
How is a Cervical Artificial Disc Replacement Performed at The Spine Institute of Louisiana?
At The Spine Institute of Louisiana, a Cervical ADR is often performed as an outpatient procedure so that you can return home the same day as your procedure.
During a Cervical Artificial Disc Replacement procedure:
Incision. A small incision is made along natural skin folds on the front of the neck.
Disc removal. The damaged disc and pieces of arthritic bone compressing the spinal nerves are removed.
Implant insertion. Disc height is restored and the artificial disc is placed between adjacent vertebrae.
Using our advanced minimally invasive techniques, there is very little surgical trauma and you are able to recover and return to normal activities shortly after surgery.
Make an Appointment with a Spine Institute of Louisiana Spine Specialist Today
If you have been considering a Cervical Artificial Disc Replacement schedule an appointment with one of our Board Certified Spine Surgeons.
We will evaluate your unique lifestyle and goals to determine which type of surgery is best for you.
Compassion • Innovation • Excellence.
Meet Our Team
The Spine Institute of Louisiana physicians recognize that medicine is a service profession and as such believe that the health and healing of patients must come first.  We feel that each and every patient should be treated in a respectful and compassionate manner as we strive to seek solutions that will improve the quality of our patients' lives.  Our philosophy is to provide quality patient care using innovative and minimally invasive technologies in a manner that offers convenience, and a continuum of care that routinely sets the mark higher than the accepted standard of care for the area.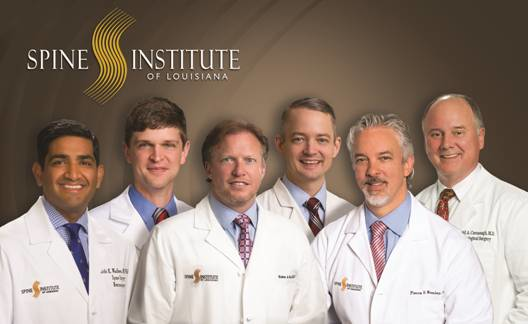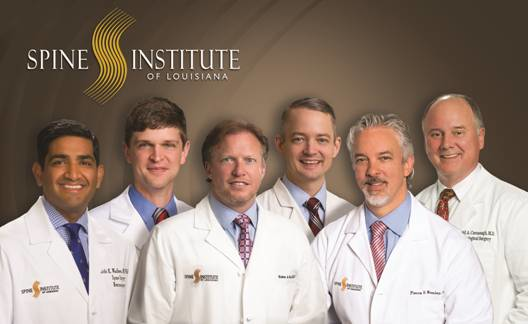 Take The First Step
Request An Appointment!
Our friendly and knowledgeable staff are available to answer any questions.