Neurosurgeon
Andrew Utter, MD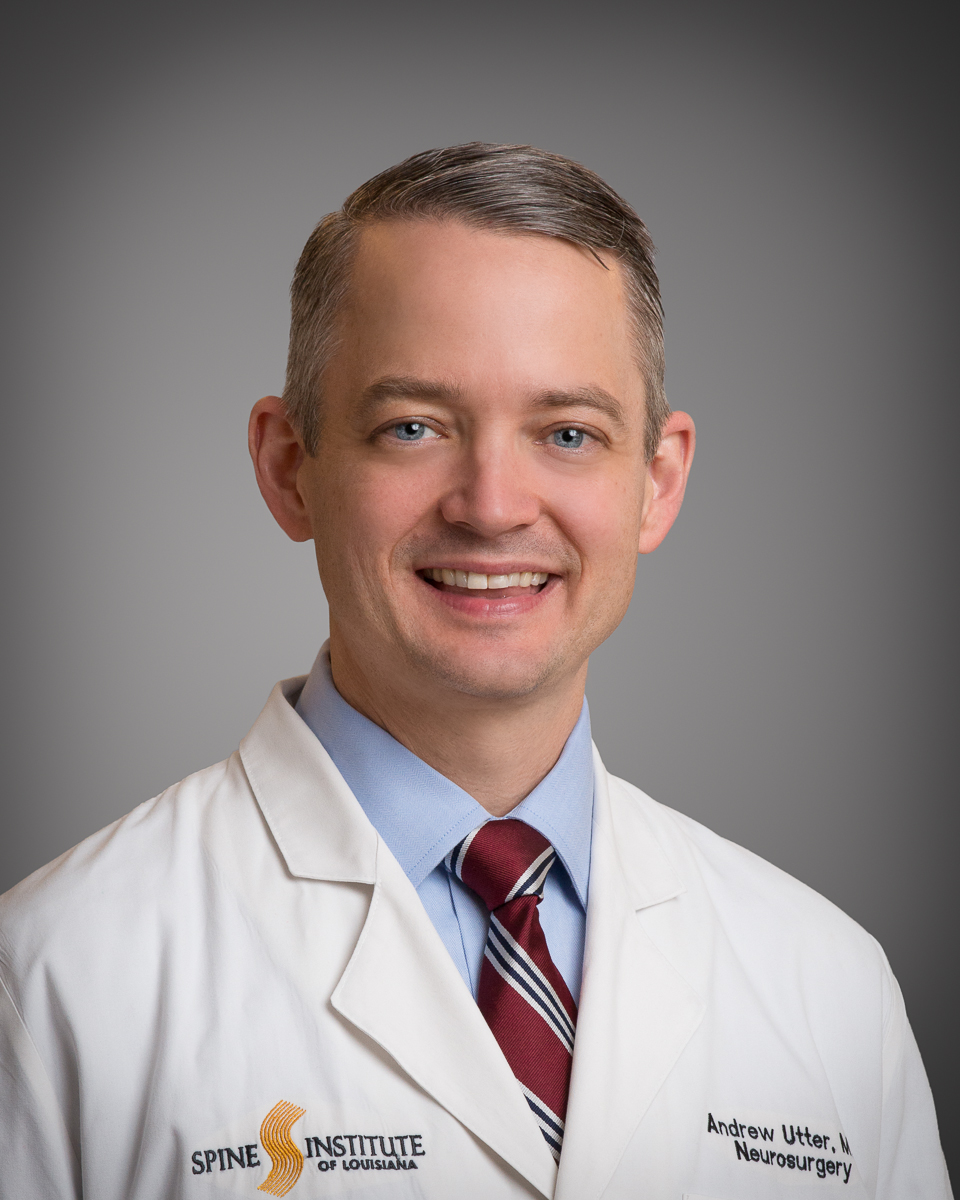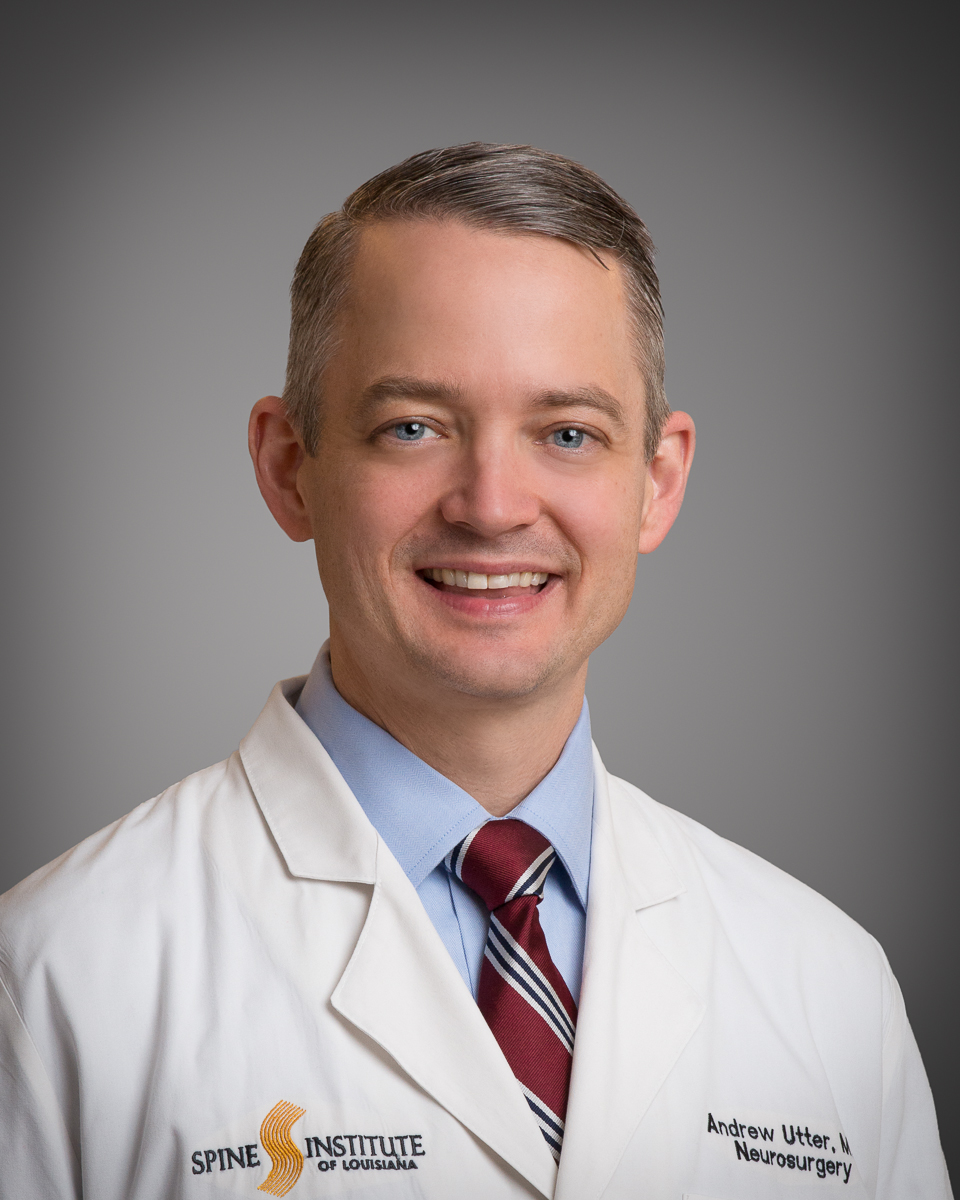 Neurosurgeon
Andrew Utter, MD
About Dr. Utter
Andrew Utter, MD is a fellowship trained, board certified neurosurgeon specializing in spine surgery. He received his undergraduate education at LSU. He obtained his Doctorate in Medicine from the University of Mississippi Medical Center graduating Magna Cum Laude.
Dr. Utter did his neurosurgery training at the Mayo Clinic in Rochester, Minnesota and was the chief neurosurgery resident from 2007 to 2008. The Mayo Clinic is widely regarded as one of the world's greatest medical centers and every year between 2001 and 2008 it was ranked number one by the US News and World Report for adult neurology and neurosurgery. Following residency, Dr. Utter completed a one year combined orthopedic and neurosurgery spine fellowship under the guidance of Ed Benzel at the Cleveland Clinic.
Dr. Utter has been in private practice in Shreveport, Louisiana since completion of his spine fellowship in 2009. Dr. Utter provides comprehensive non-operative and operative management of spinal disorders. He utilizes minimally invasive surgical techniques and has interests in deformity correction, revision spinal fusion, artificial disc replacement, sacroiliac joint dysfunction, peripheral nerve surgery and management of sports related spinal injuries. He has published peer reviewed articles, authored book chapters on spinal surgery and presented research nationally and internationally.
Dr. Utter is married to Dina Rebecca Utter and they have two children: Nathan and Karleigh. His hobbies are mountain biking, snow skiing, camping and amateur endurance racing such as cycling, marathons, and triathlons. He is a member of Grace Baptist Church and a children's leader for Bible Study Fellowship International.
Specialties
Spinal Reconstructive and Scoliosis Surgery
Minimally Invasive Spine Surgery
Brain and Spinal Tumor Surgery
Motion Preserving Spinal Surgery
Cervical Spine Surgery
Lumbar Spine Surgery
Education
Louisiana State University – BS in Biochemistry & Physiology (1996)
Minors in Microbiology and Chemistry
University of Mississippi Medical Center – Doctor of Medicine – Magna cum Laude (2000)
Mayo Graduate School of Medicine – Rochester, Minnesota: Internal Medicine Internship (2000-2001)
General Surgery Internship (2001-2002)
Neurosurgery Residency (2002-2007
Chief Neurosurgery Resident (2007-2008)
Cleveland Clinic Foundation – Spine Fellowship (2008-2009)
Affiliations
American Association of Neurological Surgeons
Congress of Neurological Surgeons
International Society for the Advancement of Spine Surgery
European Association of Neurological Societies       
North American Spine Society
AO (Arbeitsgemeinschaft fur Osteosynthesefragen) International
Louisiana State University Alumni Association
University of Mississippi Medical Center Alumni Association
Mayo Clinic Alumni Association
Cleveland Clinic Alumni Association
Louisiana Neurosurgical Society
Louisiana Orthopedic Association
Louisiana State Medical Society
Shreveport Medical Society
"I can't say enough about Dr. Utter's bedside manner and how well he communicated with me and my family. He took as long as necessary to explain and answer all of our questions."
Take The First Step
Request An Appointment!
Our friendly and knowledgeable staff are available to answer any questions.