Learn More About
ACDF
Minimally Invasive Cervical Spinal Fusion
Learn More About
ACDF
Minimally Invasive
Cervical Spinal Fusion
What is a Minimally Invasive Cervical Fusion (ACDF)?
A Minimally Invasive Cervical Fusion is also commonly referred to as an ACDF and is used to treat chronic pain, nerve compression and/or instability that originates in the cervical spine. This procedure is typically recommended when cervical spine conditions do not respond to conservative treatment options.
Although ACDF's were historically performed with an open incision, at The Spine Institute of Louisiana our advanced technology and training allow most ACDF's to be performed in a minimally invasive fashion. This means a much smaller incision is used, less surgical trauma occurs and recovery time is shortened.
The Board Certified Spine Surgeons at The Spine Institute of Louisiana are experts in Minimally Invasive Cervical Spinal Fusion procedures and have helped thousands of patients return to an active and healthy lifestyle following this procedure.
How is a Minimally Invasive Cervical Fusion (ACDF) Performed at The Spine Institute of Louisiana?
At The Spine Institute of Louisiana, an ACDF may be performed as either an inpatient or outpatient procedure based on your Spine Surgeons recommendation. If the procedure is performed on an inpatient basis, the hospital stay is usually only 1-2 days.
During an ACDF procedure:
Incision. A small 1-2 inch incision is made in the front or back of the neck (depending upon your specific condition).
Exposure. Muscles are gently retracted so the cervical spine can be viewed.
Discectomy. Tiny instruments are used to carefully remove the damaged disc.
Implant Insertion. A bone graft packed spacer is inserted between adjacent vertebrae.
Fusion. Small rods and/or plates and screws are used to fixate adjacent vertebrae.
Using our advanced minimally invasive techniques, there is very little surgical trauma and you are able to recover and return to normal activities shortly after surgery.
Make an Appointment with a Spine Institute of Louisiana Spine Specialist Today
If you have been considering a Minimally Invasive Cervical Spine Fusion, schedule an appointment with one of our Board Certified Spine Surgeons.
We will evaluate your unique lifestyle and goals to determine which type of surgery is best for you.
Compassion • Innovation • Excellence.
Meet Our Team
The Spine Institute of Louisiana physicians recognize that medicine is a service profession and as such believe that the health and healing of patients must come first.  We feel that each and every patient should be treated in a respectful and compassionate manner as we strive to seek solutions that will improve the quality of our patients' lives.  Our philosophy is to provide quality patient care using innovative and minimally invasive technologies in a manner that offers convenience, and a continuum of care that routinely sets the mark higher than the accepted standard of care for the area.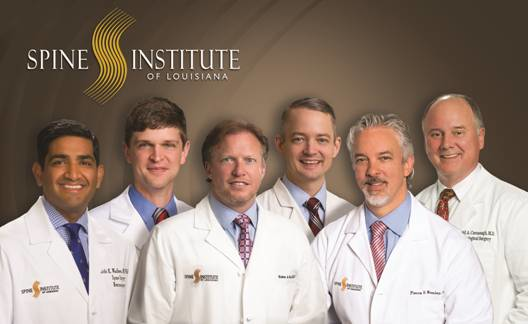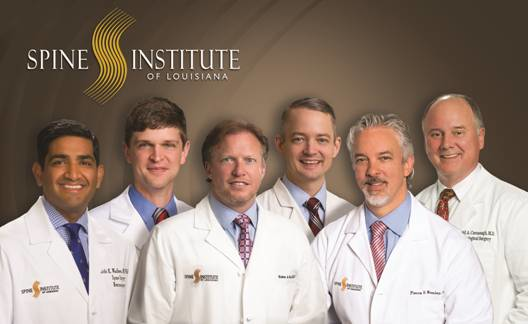 Take The First Step
Request An Appointment!
Our friendly and knowledgeable staff are available to answer any questions.